Wire Rack Merchandiser
Flavia Coffee Brewer Parts & Supplies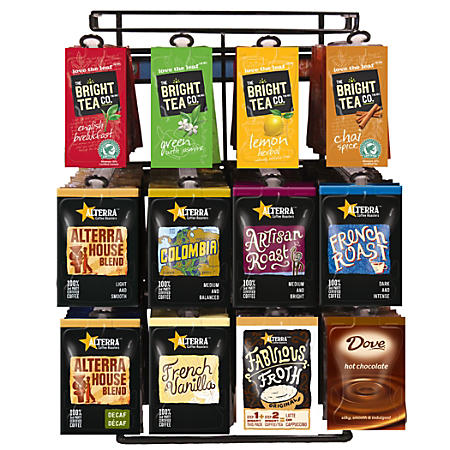 4 column wire merchandiser intended for use with the Flavia filterpacks.

Showcases a wide selection of Flavia coffees, teas, chocolates and more
Perfect for countertops or anywhere you offer drink solutions.
The user-friendly design makes efficient use of counter space.
Wire rack holds 150 packs, is easily filled, and can be mounted.
Capacity: 150 single-serve packs
Color: black
Dimensions: 18"H x 12"W x 10"D
Holder Features: mountable
Manufacturer: Mars Drinks, Inc.
Mountable: yes
Primary Material: metal


Save 20% on Flavia Coffee, Teas, Cappuccinos & Hot Chocolate

Same Day Shipping on orders placed by 1pm CST
Alterra / Flavia Coffee Flavors
Indulgence Choices for the Flavia Beverage System
Barista Machine Espressos
Flavia's Bright Tea Company Selection