Barista's Blend - A197 Coffee by Alterra / Flavia
Alterra Coffee Refills / Flavia Filterpacks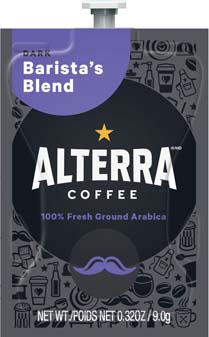 We created this recipe of dark roasted beans to yield a rich, smoky cup that any barista would be proud to serve! This coffee was inspired by the award-winning baristas that have been a tradition in Alterra's coffee shops. This big-bodied coffee is dark roasted and yields a rich, smoky cup of coffee.

More than 30% of the coffee in our Barista's Blend originates from Rainforest Alliance Certified " farms.

5 rails per case
20 freshpacks per rail. Order Quantity is based on rails.
Strength: 5
Roast: Dark
Taste: Intense
/ rail
(20 Flavia Filterpacks)


Save 20% on Flavia Coffee, Teas, Cappuccinos & Hot Chocolate

Same Day Shipping on orders placed by 1pm CST
Alterra / Flavia Coffee Flavors
Indulgence Choices for the Flavia Beverage System
Barista Machine Espressos
Flavia's Bright Tea Company Selection