Salted Caramel Macchiato
Coffee Snack Bars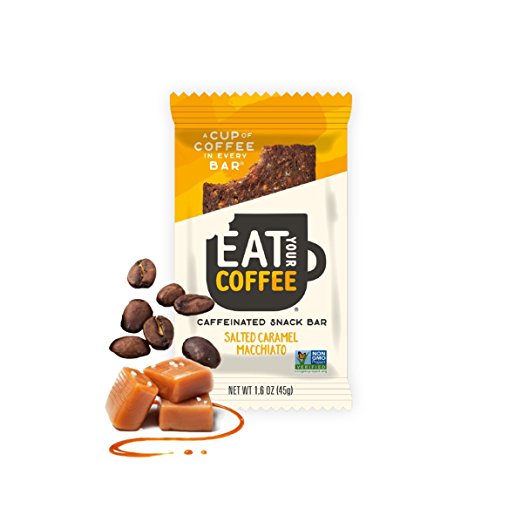 Certified Kosher

Certified Gluten-free

Vegan

Non-GMO

Fair Trade Coffee


About the

product
SALTED

CARAMEL MACCHIATO: The Salted Caramel Macchiato bar is the perfect snack to get you through your day. With flavors of sweet creamy caramel and smooth roasted coffee, it will be love at first bite.

1 CUP OF COFFEE IN EVERY BAR: Eat Your Coffee snack bars are naturally caffeinated which means every bite helps promote muscle recovery if eaten post-workout. The caffeine from real coffee also gives you the energy you need to beat that

3pm

slump and boosts productivity and focus and help you get stuff done

VEGAN, GLUTEN-FREE BARS: Eat Your Coffee snack bars are vegan, gluten-free, non-GMO, kosher and 70% organic. Each bar is naturally caffeinated with a full cup of antioxidant-rich, fair-trade coffee and made with real ingredients to nourish and energize. It's the perfect afternoon pick me up.

FOUR KEY INGREDIENTS IN EVERY BAR: Each Eat Your Coffee snack bar has 4 key ingredients; dates, oats, nut butter, and coffee. Organic dates are high in fiber to improve digestive health. Gluten-free oats are rich in magnesium for enzyme function and energy production. Nut butter is protein-packed for strength and recovery after a tough workout, and Fair Trade Coffee is antioxidant-rich and always energizing.

GET ENERGIZED AND GET MORE DONE: Eat Your Coffee was originally founded by coffee-deprived college students and is now on a mission to help people get energized and get more done with naturally-caffeinated snacks made with real, ethically-sourced ingredients.


Save 20% on Flavia Coffee, Teas, Cappuccinos & Hot Chocolate

Same Day Shipping on orders placed by 1pm CST
Alterra / Flavia Coffee Flavors
Indulgence Choices for the Flavia Beverage System
Barista Machine Espressos
Flavia's Bright Tea Company Selection