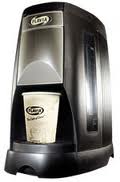 The Flavia SB100 single cup coffee brewer has been an awesome machine!  We have many customers that are still using theirs several times each and every day and have been doing so for 5, 7, 8+ years.  That's not just any coffee maker

However, it's only built by humans; so, it can't last forever.  The most common problem with the SB100 is that it begins short-cupping after years of use.  Instead of making a full seven ounces of coffee, it makes about half of what it should.  When that happens, the coffee filterpack usually has water in it when you dispose of it.  You'll know because it will spill if you squeeze the freshpack.  So, instead of the water going in your cup, some of it stays in the filterpack.  This is usually caused by a pump failure inside the machine.
This pump is not easy for the user to change, but it can be changed by someone trained to work on this machine.  However, the cost of the pump and labor really make it a poor choice to repair a machine that has served you well for several years since they warranty is probably expired.  So, it's time for a new one

    I know, it's like part of the family.  Coffee addicts are crazy about their Flavia machines; so usually the best option is to just replace it with a newer version Flavia brewer.  Flavia is serious about quality coffee & teas.  Same goes for their coffee makers!
Prior Flavia machines, the larger S350 office drink station as well as the smaller Flavia Fusion home model, have also been extremely reliable, consistent appliances.  I wish everything, or how about ANYTHING,  in my home was as trouble free as any of the Flavia single cup brewers. 

  I can't recommend them enough.
Today there are three new Flavia drink stations to continue the legacy – the Creation Series:
– the Flavia Creation 400 – for 50+ employees
– the Flavia C200 – for 16 – 49 employees
– the Flavia C150 – for homes or small offices
So, if your SB100 is on the ropes, you can always welcome in a new member to the family!