Alterra coffee filterpacks have a new Look!
Flavia is known for freshness and their Alterra coffee filterpack designs never get stale.  Checkout the new 2017 design currently being shipped in some flavors.  All Alterra flavors have a new similar design, but we are only showing a few here.  They have a crisp new style with a different icon representing each flavor below the Alterra name.  The flavor name is now in small letters on the upper left of the front side of the pack with a colored background matching the icon.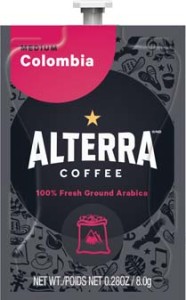 The freshest single cup coffee system just got fresher!  These new designs are slowly being rolled out across all flavors; so don't let them confuse you!  No recipes have changed: just the package designs!  Also the new packages also have a cool see-through window on the back of each packet.  This is a surprise we'll save so you can see in person.  We will update the package styles on CoffeeASAP.com gradually as well: don't want to confuse everyone with a dramatic switch.
Hey, trust me; we could upset half the globe by messing with their coffee!  Hopefully you're lucky enough to read this first.