Peet's Coffee & Flavia – Tag Team Single Cup!
Peet's Coffee and Flavia's Single Cup Coffee systems unite as a coffee industry duo to set a new pace! Flavia brewer users can now enjoy three awesome Peet's flavors with the same convenience & mess-free ease of use that only the Flavia system can offer.
Try them out at www.CoffeeASAP.com
The first three coffee varieties are:

PEET'S® Café Domingo™

PEET'S® Colombia Luminosa

PEET'S® French Roast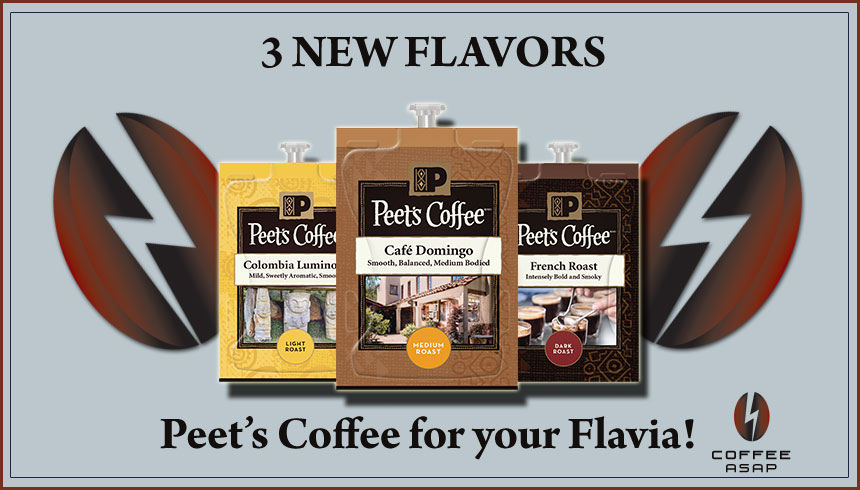 As Flavia / Mars Drinks expands to offer Peet's Coffee nationwide; be on the lookout for more coffee partners to add local and national favorites to the Flavia coffee selections.
If you haven't tried Flavia, now is a great time to start. Whether for home, work, office, motorhome, or vacation home; the Flavia single cup brewers are a unique favorite among coffee snobs everywhere! As the oldest & original single cup coffee system, Mars has kept quality above all else in growing the line of beverages and brewers!
Each addition described…
Peet's Café Domingo:
This medium-roast blend was crafted from three Latin American coffees for slow sipping and savoring. It a smooth and balanced cup of coffee with hints of toffee sweetness and a crisp, clean finish.
Great coffee brings friends and neighbors together like nothing else. That's why we created this medium roast to pay tribute to the time-honored pastime of lingering in the café, casually sipping an expertly brewed cup over conversation.
The three Latin American coffees in this carefully crafted blend were selected for their balance and brightness, and the roast fine-tuned to brew the perfect medium-bodied cup. We decided to name it after our third café, opened by Alfred Peet in 1980 on Domingo Avenue in Berkeley, in the shadow of the Claremont Hotel. For more than three decades, Peet's regulars have gathered here to enjoy hand-crafted drinks and the camaraderie they inspire. And that's something worth commemorating.
Peet's Columbia Luminosa:
The majority of this blend is from Colombia, where luminosa means "shining or bright." This bright coffee is beautifully balanced by an Ethiopian coffee that adds just the right touch of delicately sweet aroma for a deliciously mild, smooth cup.
We approached our first light roast, Colombia Luminosa, as we do all our coffees: carefully select the very best beans, then hand roast them in small batches to achieve their utmost flavor. In Colombia, luminosa means "shining or bright" and this bright blend layers subtle sweetness from Colombia with just the right touch of Ethiopia floral aromatics; a pair we knew would go perfectly together. We started with a coffee from the Huila region in Colombia's highlands, a place where beans are cultivated over 4,500 feet and known for their smooth, sweet character. Then to Ethiopia, coffee's birthplace, where unique varieties yield exquisite coffees with delicate aromas.
Peet's French Roast:
Peet's darkest roast is intensely bold and flavorful with pronounced smoky overtones & a pleasant bite. Only top-quality Arabica coffee from the highest altitudes of prime Latin American growing regions is selected for this roast.
The signature taste and rich coffee character of French Roast comes from a longer, hotter roast, which not all beans can handle. For our darkest roast, we select only top-quality Arabica coffee from the highest altitudes of prime Latin American growing regions. Beans mature slowly at these altitudes, becoming denser, harder and packed with flavor – perfect for retaining boldness and complexity under the intense heat of a deep roast.
Peet's French Roast is not a coffee for the cautious, but for those who embrace the powerful taste, pronounced smoky overtones, and pleasant bite. This dark, deeply flavorful blend pairs well with cream and sugar, and inspires reactions like this one from John "Nic" Nicolini, a Peet's roaster for over 20 years: "On a normal day, I cup 50 coffees before 7 a.m. But I always come back to French. You inhale that smoky aroma, and then a subtle sweetness pops out that awakens your taste buds. It's visceral."
All Rights Reserved. PEET'S is a registered trademark and the P Cup logo, PEET'S COFFEE, and CAFé DOMINGO are trademarks of Peet's Coffee & Tea.
Order all of Peet's Coffees for Flavia at www.CoffeeASAP.com