In the next couple of weeks, we are going to talk about the different types of gourmet coffee, tea, and indulgence drinks that Flavia and Alterra has to offer for your single cup brewer. Today we will start with coffees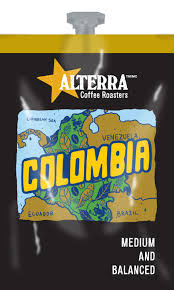 and then work our way through the teas and specialty drinks.
Let's begin by discussing the filter fresh pack of Alterra Colombia coffee. This single cup of coffee offers a very rich and smooth cup of coffee. Colombian coffee is one of the most highly recognized flavors of coffee in the industry and has enjoyed immense popularity with single cup coffee lovers around the world. Alterra's 100% Colombian bean is hand-selected for the very best in quality and maturity.
The Colombia beans are medium-roasted to give a balanced, fragrant smell and taste to the consumer. The strength is listed as a 3, on a scale from 1 to 5, with 5 being the strongest. We have found that many people who start to use the single cup system often will start with this blend because it is recognized around the world. I find after they try this cup, they often venture out into other blends of filter fresh packs.
This filter fresh pack of coffee works in all of the Flavia brewers.
This Alterra Colombia coffee is well-rounded and goes very well in a cappuccino or even when mixed with mocha. Flavia and Alterra has mastered the filter fresh, single cup of coffee. Every cup has the consistency of the last filter fresh cup of coffee. The quality is as good as or better than what you would find at a café.
The next single cup of coffee we will talk about is Alterra House Blend filter fresh, single cup of coffee. Until then, enjoy a fresh cup of coffee today.