Caramel Milk Froth Powder for Flavia by Lavazza (Limited Edition)
Indulgence Flavia Refills / Freshpacks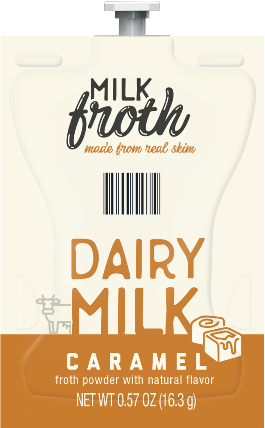 Combine this limited edition Caramel Milk Froth with a coffee or hot chocolate for a buttery, caramel treat. At 60 calories per pack, it can be latte time anytime!
12 Freshpacks per kit
5 kits per case.
Order Quantity is based on
kits
.
INGREDIENTS
Skim Milk Powder, Sugar, Whey, Butterfat, Soluble Corn Fiber, Lactose, Potato Starch, Salt, Sodium Caseinate (Milk Derivitave), Silicon Dioxide, Natural Flavor, Sunflower Lecithin, Vitamin A Palmitate, Vitamin D3.
Contains: Milk.

NUTRITIONAL INFORMATION (PER SERVING)
Energy 50kcal
Protein 3g
Carbohydrate 11g
Sugar 7g
Total Fat 1g
Saturated Fat 1g
Fiber 0g
Sodium 110mg
Caffeine 0mg
Contains Allergens Milk
May Contain Allergens Soy
Vegetarian Yes
Kosher Yes
Limited Edition | No Longer Available | Recommended Replacement is Real Milk Froth
Limited Edition | No Longer Available | Recommended Replacement is Real Milk Froth


Save 20% on Flavia Coffee, Teas, Cappuccinos & Hot Chocolate
Same Day Shipping on orders placed by 1pm CST
Indulgence Choices for the Flavia Beverage System
Alterra / Flavia Coffee Flavors
La Colombe Coffee - Flavia Refill Packets
Peet's Coffee for Flavia
Barista Machine Espressos
Flavia's Bright Tea Company Selection