Flavia Aroma Brewer by Lavazza
Mars Drinks Flavia Coffee Machines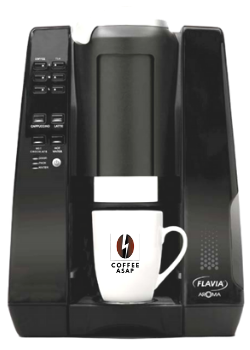 Add big coffee shop taste to every small space with the Aroma.

The Flavia Aroma brewer is our newest solution for small offices and for homes. With a small, compact design and a wide range of drinks, this brewer will easily make a great addition to your home kitchen, office lunchroom or reception area.

With over 100 hot drink options available, everyone can easily enjoy the cafe-style drinks they love with the push of a button. Brew coffees, teas, hot chocolates, cappuccinos, lattes, and hot water effortlessly with the Flavia Aroma brewer. Plus, innovations like Real Milk Frost Powder create authentic coffee-shop style drinks without the mess of milk!

Even in small spaces, you can create new opportunities for your workplace to connect, refresh and recharge to stay productive throughout the workday. Great for any workspace with its small footprint - 14.3" H x 10.5" W x 11.6" D. The large tank size means more cups between refills, with an 81floz (2.4L) water tank. Brew 3 sizes: Small 5.4oz, Medium 7oz, Large 8.3oz

The 60-second brew-time and versatility of the Aroma makes enjoying cafe-style drinks quick and simple. By offering a full range of Flavia drinks, you can meet the taste and choice needs for your office or home.


Save 20% on Flavia Coffee, Teas, Cappuccinos & Hot Chocolate
Same Day Shipping on orders placed by 1pm CST
Mars Drinks Flavia Coffee Machines
Indulgence Choices for the Flavia Beverage System
Alterra / Flavia Coffee Flavors
La Colombe Coffee - Flavia Refill Packets
Peet's Coffee for Flavia
Barista Machine Espressos
Flavia's Bright Tea Company Selection