Alterra Coffees
The Alterra Coffee name popular in the Midwest is now available in the awesome Flavia filterpacks but with the Alterra Coffee name! These unique freshpacks have been around since 1981 and brew a single cup of high quality, gourmet coffee within seconds in the amazing Flavia Drink Station coffee & tea brewers.

Alterra Coffee has a great selection of Light to Dark Coffees, Smooth to Intense tastes, and Bright to Balanced coffee profiles! Mix your favorite Alterra Coffee with a cappuccino or frothy mocha for an addictive treat that will impress the most finicky coffee snobs!

Alterra Coffee Packets

Not long ago, your Flavia coffee packets were changed and redesigned to bear the Alterra coffee name.


While the Flavia coffee refills were delightful, the new Alterra flavors not only make it easier to read and understand the coffee flavor you're about to drink, but
Alterra coffee flavors
are just more fun! While the Flavia coffee refills may have been a little more colorful, Alterra's coffee packets feature the geographical place from which their flavors were inspired.
These flavors include:
Of course, the Alterra coffee packets contain other flavors as well, such as French Roast, House Blend, Hazelnut, Morning Roast, and Barista's Blend, just to name a few.
So, while the
single-cup coffee brewers
are still made by Flavia, just be aware that the coffee packets you receive from us will be Alterra coffee packets.

Also, keep in mind that the Alterra coffee packets are designed the same way as the Flavia coffee refills, so there will nothing new to get used to, with regard to using your machine.

Alterra Coffee Packets Design
While it may not look like it, the Alterra coffee packets are designed with some very sophisticated technology. First, let's talk about the seal on the bottom of the packet.
Did you know that the Alterra coffee packets were sealed with vegetable oil? How cool is that?! How do they even do that?! Well, the seal is created by using a vegetable oil-based material combined with other ingredients. When heated by the water in the
Flavia Coffee Machines
, it expands, thereby hermetically sealing the coffee packet and preventing a leak.
As you'll notice in the photo above, the bottom of the Alterra coffee packets have a mesh-like appearance. This is a cloth filter inside the coffee packet that drops down, once the water is injected into the packet, and filters your Alterra coffee.
Apart from
Alterra coffee packets
being made with superior technology, it also has some great benefits for our health. Alterra coffee is made with extremely fine, real coffee granuals-not like some artificial substitutes out there. The best Alterra coffees for health are listed below:
And with most Alterra coffee packets containing only 2 calories per serving, they are a MUCH healthier choice than your standard drive-thru coffee. See all of the
nutritional data
on your Alterra coffee packets by clicking on the chart below to enlarge it.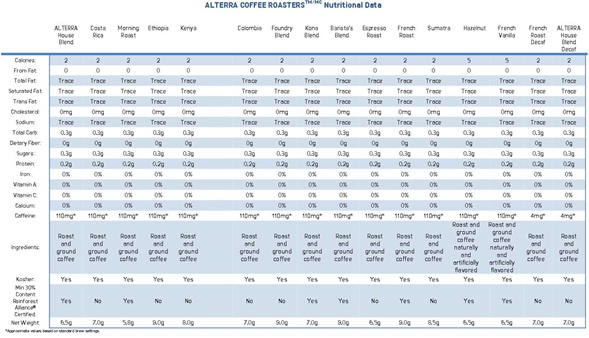 For the latest news on Lavazza, Flavia and Alterra coffee, visit our
Blog
, which features news, updates, and other fun stuff regarding all things Lavazza, Flavia and Alterra coffee. Also, if you need to contact us to order any new Alterra coffee packets you can fill out this
Contact Request Form
.
Save 20% on Flavia Coffee, Teas, Cappuccinos & Hot Chocolate
Same Day Shipping on orders placed by 1pm CST
Minimum order of 5 rails (any mixture of any drinks)