Alterra French Vanilla Coffee for Flavia by Lavazza
Alterra Coffee Refills / Flavia Filterpacks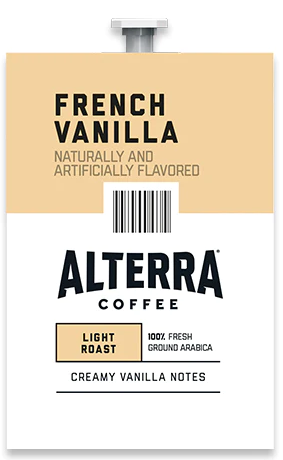 Relax and unwind with a blend of medium roasted beans and the creamy flavor of vanilla.
More than 30% of the coffee in our French Vanilla originates from Rainforest Alliance Certified
"
farms.
5 rails per case
20 freshpacks per rail.
Order Quantity is based on rails.
Ingredients
Roasted Whole Bean Coffee, Naturally and Artificially Flavored.
NUTRITIONAL INFORMATION (PER SERVING)
Energy 0kcal
Protein 0g
Carbohydrate 0g
Sugar 0g
Total Fat 0g
Saturated Fat 0g
Fiber 0g
Sodium 0mg
Salt 0g
Caffeine ~90-100mg
Allergens
Contains Allergens No
May Contain Allergens No
Vegetarian No
Kosher Yes
/ rail
(20 Flavia Filterpacks)


Save 20% on Flavia Coffee, Teas, Cappuccinos & Hot Chocolate
Same Day Shipping on orders placed by 1pm CST
Alterra / Flavia Coffee Flavors
Indulgence Choices for the Flavia Beverage System
La Colombe Coffee - Flavia Refill Packets
Peet's Coffee for Flavia
Barista Machine Espressos
Flavia's Bright Tea Company Selection