Peet's Cafe Domingo Coffee for Flavia by Lavazza
Peet's Coffee for Flavia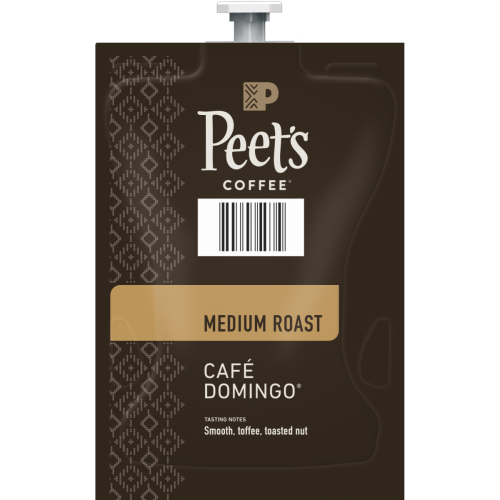 This medium-roast blend was crafted from three Latin American coffees for slow sipping and savoring. Peet's® Café Domingo is a smooth and balanced cup of coffee with hints of toffee sweetness and a crisp, clean finish.
All Rights Reserved. PEET'S is a registered trademark and the Peets Cup logo, PEET'S COFFEE, and CAFE DOMINGO are trademarks of Peet's Coffee & Tea.
4 rails per case
19 freshpacks per rail.
Order Quantity is based on rails.
INGREDIENTS
100% Roasted Whole Bean Coffee
NUTRITIONAL INFORMATION (PER SERVING)
Energy 0kcal
Protein 0g
Carbohydrate 0g
Sugar 0g
Total Fat 0g
Saturated Fat 0g
Fiber 0g
Sodium 0mg
Salt 0g
Caffeine ~90-100mg
Allergens
Contains Allergens No
May Contain Allergens No
Vegetarian Yes
Kosher Yes
Smooth
Balanced
Medium Bodied


Save 20% on Flavia Coffee, Teas, Cappuccinos & Hot Chocolate
Same Day Shipping on orders placed by 1pm CST
Peet's Coffee for Flavia
Indulgence Choices for the Flavia Beverage System
Alterra / Flavia Coffee Flavors
La Colombe Coffee - Flavia Refill Packets
Barista Machine Espressos
Flavia's Bright Tea Company Selection