Cold Brew Coffee for Flavia by Lavazza
Flavia Cold Drinks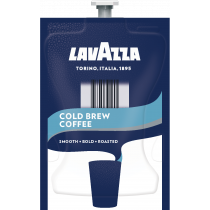 A smooth coffee with notes of cocoa and caramelized sugar, our Lavazza Cold Brew Coffee is a breakroom must-have. Better yet, people like Lavazza Cold Brew Coffee as much as two leading read-to-drink brands' cold brew.
*
Who knew you could get so much authentic cold brew flavour from a little pack?
Our cold brew is true cold brew - we don't use heat in our process.
Enjoy the long-steeped flavor of cold brew without the wait. Brew using Lavazza's Single Cup Office C600 Brewer for a smooth, roasted, smoky, and savory cold brew.
*Lavazza Professional Cold Brew Preliminary Study Claims Study, September 2019. Lavazza Cold Brew Coffee Freshpack vs Califia Farms® and Chameleon® RTD beverages; Califia Farms is a registered TM of Califia Farms, LLC; Chameleon is a registered TM of SOCIÉTÉ DES PRODUITS NESTLÉ S.A.



4 rails per case.
20 freshpacks per rail.
Order quantity is based on rails.


INGREDIENTS
Ground coffee, dehydrated cold brew

NUTRITIONAL INFORMATION (PER SERVING)
Energy 15kcal
Protein 0g
Carbohydrate 3g
Sugar 0g
Total Fat 0g
Saturated Fat 0g
Fiber 0g
Sodium 0g
Salt 0g
Caffeine 95mg
Allergens
Contains Allergens No
May Contain Allergens No
Vegetarian Yes
Kosher Yes

/ Rail
(20 Flavia Filterpacks)


Save 20% on Flavia Coffee, Teas, Cappuccinos & Hot Chocolate
Same Day Shipping on orders placed by 1pm CST
Indulgence Choices for the Flavia Beverage System
Alterra / Flavia Coffee Flavors
La Colombe Coffee - Flavia Refill Packets
Peet's Coffee for Flavia
Barista Machine Espressos
Flavia's Bright Tea Company Selection