Flavia Creation 600 by Lavazza
Mars Drinks Flavia Coffee Machines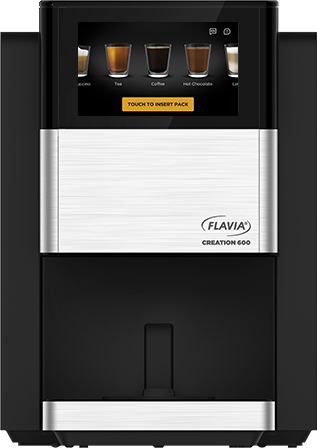 POWER WORKPLACE HAPPINESS
Breaks matter—a lot. Breaks relieve stress, boost productivity, promote belonging and wellness, and ultimately lead to increased happiness.1
The FLAVIA® CREATION 600 was designed to create better breaks. With the C600, you can craft a variety of drink options that meet the needs of every moment while smart technology makes managing office beverages a breeze.
Whether it's soothing hot or frothy drinks for heads-down work, or refreshing cold drinks that put a little pep in meeting prep—there's something to put a smile on the face of every coffee connoisseur, latte lover, and iced tea queen to help fuel a wonderful workday.
The C600 was designed with hygiene top-of-mind: you can brew straight from your phone with the FLAVIA® Tap N'Brew App.
DON'T WORK HARDER—BREW SMARTER!
The FLAVIA IQ smart technology and online portal helps you manage office beverages in a fraction of the time.
Here's some of the ways FLAVIA IQ Works For You™
Monitors consumption trends to show you what's hot, what's not, and what to order more of next time
Sends you maintenance requests from your employees
Automatically sends service alerts to your beverage distributor when your brewer needs tech support
Less need for service appointments—your beverage distributor can access your brewer remotely to update firmware, configure settings, and more (which also means fewer people in and out of your office)
Keeps employees in-the-know with customizable brewer screen content templates
TECHNICAL SPECIFICATIONS
Dimensions:
Height: 17.1" (435 mm)
Width: 12.1" (308 mm)
Depth: 20.1" (511 mm)
Weight:
32.0 lbs; when full 34.2 lbs
Power Supply:
AC 120V, 60 Hz, 1550W
Certifications:
TUV SUD NRTL listed for commercial & domestic use
NAMA certified
NSF 4 Listed
(Brewer Only - Side Modules Not Included)


Save 20% on Flavia Coffee, Teas, Cappuccinos & Hot Chocolate
Same Day Shipping on orders placed by 1pm CST
Mars Drinks Flavia Coffee Machines
Indulgence Choices for the Flavia Beverage System
Alterra / Flavia Coffee Flavors
La Colombe Coffee - Flavia Refill Packets
Peet's Coffee for Flavia
Barista Machine Espressos
Flavia's Bright Tea Company Selection