The Bright Tea Co. Chai Spice Tea for Flavia by Lavazza
The Bright Tea Company / Flavia Packet Refills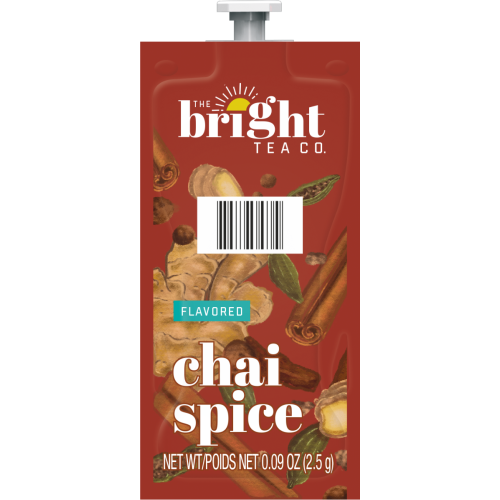 Bright black tea with notes of ginger, cinnamon, black pepper and cardamom; best served sweetened as a latte.
More than 30% of the tea in our Chai Spice originates from Rainforest Alliance Certified
"
farms.
5 rails per case
20 freshpacks per rail.
Order Quantity is based on rails.
INGREDIENTS
Black Tea, Ginger Root, Natural Cinnamon Flavor, Natural Cardamom
What is Cardamom?
Cardamom is a spice made from seed pods of various plants in the ginger family. Cardamom pods are spindle-shaped and have a triangular cross-section. Each pod contains a number of seeds but the whole Cardamom pod can be used or ground. Cardamom can be used as a breath freshener.
NUTRITIONAL INFORMATION (PER SERVING)
Energy 1kcal
Protein Trace
Carbohydrate Trace
Sugar 0g
Total Fat 0g
Saturated Fat 0g
Fiber 0g
Sodium 0mg
Salt 0g
Caffeine ~45mg
Allergens
Contains Allergens No
May Contain Allergens No
Vegetarian Yes
Kosher Yes
/ rail
(20 Flavia Filterpacks)
Out of Stock


Save 20% on Flavia Coffee, Teas, Cappuccinos & Hot Chocolate
Same Day Shipping on orders placed by 1pm CST
Flavia's Bright Tea Company Selection
Indulgence Choices for the Flavia Beverage System
Alterra / Flavia Coffee Flavors
La Colombe Coffee - Flavia Refill Packets
Peet's Coffee for Flavia
Barista Machine Espressos