**Business/Corporate Customers** FREE Flavia Barista Brewer with purchase of Drink Bundle
Mars Drinks Flavia Coffee Machines
FREE Flavia Barista

Brewer with

Business/Corporate Customers purchase of Drink Bundle!

USA Customers Only

Barista Brewer Drink Bundle!

2,064 Drink Packs (110 Rails)






This is a $4,450 value for just $1,750!



**Only available for Business/Corporate Customers**




Limit: ONE

Per Customer

Your workplace barista just got better. With this drink bundle purchase, you'll be getting a FREE Flavia Barista brewer! There are a total of 2,064 Drink Packs (110 Rails) as a bundled package! The Barista Brewer and such a large variety of drinks for everyone's palate is sure to be a great addition to any office! Now you can enjoy delicious coffee-shop-style drinks without ever leaving the office. Flavia Barista brews Americanos and double espressos, providing even more great reasons for co-workers to grab a cup and connect during the workday.

Brews a full range of coffees, authentic espressos, cappuccinos, lattes, hot chocolates and teas.


Crafts authentic, full bodied espresso in 30-40 seconds utilizing high-pressure (up to 15 BARs)
Sensors that detect the cup before brewing, helping to prevent accidents
Technology that eliminates cross-contamination between different kinds of drinks
The brewer can be programmed to be plumbed in or set for pour over
Visually stunning from all angles
Brews premium, coffeehouse-style hot beverages
Developed through a collaboration with forward-thinking companies at the forefront of modern design
Timeless design
Designed for open spaces, with 360 degree looks
Premium materials and finishes including piano black, brushed metal and stainless steel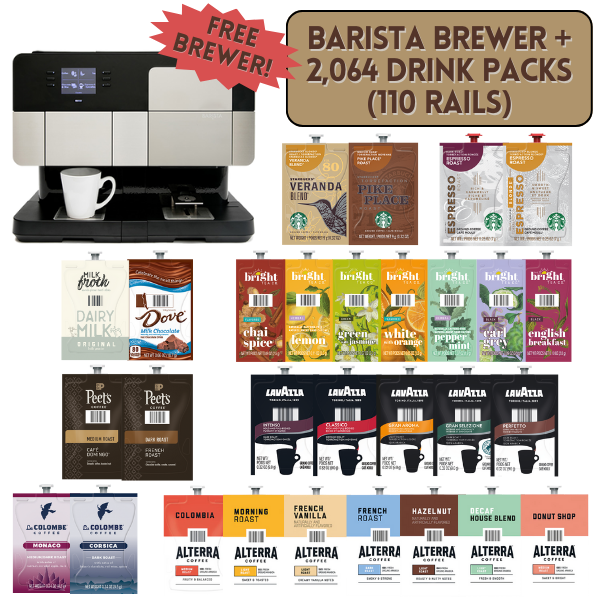 Drinks Include:
Real Milk Froth Powder - 12 Rails (216 Total Packs)


Dove Milk Hot Chocolate - 4 Rails (72 Total Packs)

Chai Spice Tea - 1 Rail (20 Total Packs)
Lemon Herbal Tea - 1 Rail (20 Total Packs)
Green with Jasmine Tea - 1 Rail (20 Total Packs)
White with Orange Tea - 1 Rail (20 Total Packs)
Peppermint Tea - 1 Rail (20 Total Packs)
E

arl Grey Tea - 1 Rail (20 Total Packs)


E

nglish Breakfast Tea - 1 Rail (20 Total Packs)



Alterra Colombia - 2 Rails (40 Total Packs)
Alterra Morning Roast - 2 Rails (40 Total Packs)


Alterra French Vanilla - 5 Rails (100 Total Packs)




Alterra Hazelnut - 2 Rails (40 Total Packs)




Alterra House Decaf - 2 Rails (40 Total Packs)




Alterra Donut Shop - 2 Rails (40 Total Packs)

Starbucks Dark Espresso - 16 Rails (288 Total Packs)


Starbucks Blonde Espresso - 16 Rails (288 Total Packs)



La Colombe Corsica - 2 Rails (38 Total Packs)


La Colombe Monaco - 2 Rails (38 Total Packs)



Peet's Cafe Domingo - 4 Rails (76 Total Packs)


Peet's French Roast - 4 Rails (76 Total Packs)



Starbucks Veranda - 4 Rails (76 Total Packs)


Starbucks Pike Place - 4 Rails (76 Total Packs)

Lavazza Classico - 4 Rails (76 Total Packs)
Lavazza Intenso - 4 Rails (76 Total Packs)
Lavazza Gran Aroma - 4 Rails (76 Total Packs)
Lavazza Gran Selezione - 4 Rails (76 Total Packs)
Lavazza Perfetto - 4 Rails (76 Total Packs)



**Due to the Barista Brewer being free and not purchased, no warranty can be provided on this deal**

$1,750
/ Brewer Drink Bundle


Save 20% on Flavia Coffee, Teas, Cappuccinos & Hot Chocolate
Same Day Shipping on orders placed by 1pm CST
Mars Drinks Flavia Coffee Machines
Indulgence Choices for the Flavia Beverage System
Alterra / Flavia Coffee Flavors
La Colombe Coffee - Flavia Refill Packets
Peet's Coffee for Flavia
Barista Machine Espressos
Flavia's Bright Tea Company Selection