**Business/Corporate Customers** FREE Flavia Creation 200 Brewer with purchase of Drink Bundle
Mars Drinks Flavia Coffee Machines
FREE Flavia C200 Brewer with Business/Corporate Customers purchase of Drink Bundle!



USA Customers Only





39 Rails of Drinks (Over 700 Drink Packets)






A $1,155 value for just $650!



**Only available for Business/Corporate Customers**




Limit: ONE

Per Customer

(USA Only)

With this drink bundle purchase, you'll be getting a FREE Flavia Creation 200 brewer! There are a total of over 700 drink packets (39 rails of drinks) as a bundled package! The Creation 200 (C200) and such a large variety of drinks for everyone's palate is sure to be a great addition to any office! Ideal for your mid-sized business of 30 people or less, the Flavia C200 offers a full range of café-style drinks conveniently in the office. Brew coffee, tea, hot chocolate, cappuccinos and lattes, all ready in less than one minute. Perfect for offices of 30 employees or fewer, this brewer is your hassle-free office coffee solution. With no clean up or mess and an easily filled water tank, you can enjoy all your favorite drinks.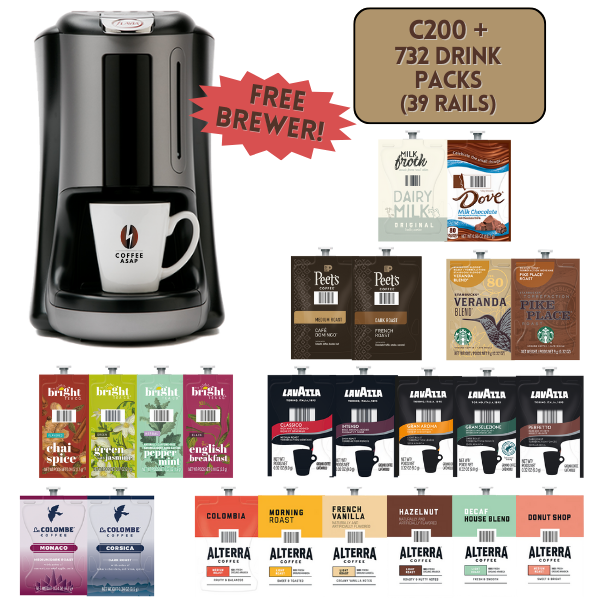 Drinks Include:
Real Milk Froth Powder - 8 Rails (144 Total Packs)


Dove Milk Hot Chocolate - 2 Rails (36 Total Packs)

Chai Spice Tea - 1 Rail (10 Total Packs)
G

reen with Jasmine Tea - 1 Rail (10 Total Packs)


P

eppermint Tea - 1 Rail (10 Total Packs)


English Breakfast Tea - 1 Rail (10 Total Packs)

Alterra Colombia - 2 Rails (40 Total Packs)
Alterra Morning Roast - 2 Rails (40 Total Packs)
A

lterra French Vanilla - 2 Rails (40 Total Packs)


Alterra Hazelnut - 2 Rails (40 Total Packs)
Alterra House Decaf - 2 Rails (40 Total Packs)
Alterra Donut Shop - 2 Rails (40 Total Packs)
La Colombe Corsica - 2 Rails (38 Total Packs)
La Colombe Monaco - 2 Rails (38 Total Packs)

Peet's Cafe Domingo - 1 Rail (19 Total Packs)
Peet's French Roast - 1 Rail (19 Total Packs)

Starbucks Veranda - 1 Rail (19 Total Packs)
Starbucks Pike Place - 1 Rail (19 Total Packs)

L

avazza Classico - 1 Rail (19 Total Packs)


L

avazza Intenso - 1 Rail (19 Total Packs)


Lavazza Gran Aroma - 1 Rail (19 Total Packs)
Lavazza Gran Selezione - 1 Rail (19 Total Packs)
L

avazza Perfetto - 1 Rail (19 Total Packs)
C200 Brewer Technical Features:
Designed especially with the needs of mid-size offices and collaborative areas in mind, <30 employees
Portable and flexible – can be used as a pour-over or plumbed in
Quick, easy-to-use technology with single-serve drinks ready in 40-60 seconds
Small and compact counter-top design
No clean up, no mess, brews one cup at a time
TUV SUD NRTL listed for commercial & domestic use
NAMA certified
FCC Class A compliant
FCC Class B compliant
Power Supply: 120V, 60Hz, 1550W 69 (1.7 mm) electrical cord length
Weight: 20lbs out of box
Drink Volume Per Cup: Small: 5.4 oz (160 ml) / Regular: 7 oz (205 ml) / Large: 8.3oz (245ml) / Over Ice: 3 oz (90 ml)
**Due to the C200 Brewer being free and not purchased, as well as discontinued, no warranty can be provided on this deal**
$650
/ Brewer Drink Bundle


Save 20% on Flavia Coffee, Teas, Cappuccinos & Hot Chocolate
Same Day Shipping on orders placed by 1pm CST
Mars Drinks Flavia Coffee Machines
Indulgence Choices for the Flavia Beverage System
Alterra / Flavia Coffee Flavors
La Colombe Coffee - Flavia Refill Packets
Peet's Coffee for Flavia
Barista Machine Espressos
Flavia's Bright Tea Company Selection