On Sale Today!
On Sale Today
20% Off
Real Milk Froth Powder
Indulge yourself with a perfect Latte or Cappuccino without leaving the office.
4 rails per case
18 freshpacks per rail. Order Quantity is based on rails.
On Sale Today
17% Off
The latest advancement in our series of high-performance workplace brewers, FLAVIA CREATION 500 blends stylish design with enhanced drink and menu display options making it easier than ever to create and enjoy the perfect brew. Featuring a compact, modern design built to deliver the benefits you've come to expect-including reliable performance, hassle-free maintenance and no cross contamination of taste from one drink to the next. It's the
modern day
water cooler that'll bring people at work together-from the boardroom to the break room.
Now with Free Shipping!
Designed For: Large Office
Water Capacity: 101.4 oz
Plumbable: Yes
Weight (Empty): 27.8 lbs
Power Supply: 120V / 60 Hz
Fixed Cord Power Lead: Yes
Water Filter Type: External Water Filter
Removable Drip Tray: Yes
Approval Certification: TÜV SÜD NRTL Certification, FCC Compliance, NSF 372 & NAMA certified
Bin Capacity: 23 Fresh packs
On Sale Today
25% Off
NOTE: Only for use in Barista Espresso machines
A smooth and sweet espresso with a mellow touch. Incredibly smooth and subtly sweet with a creamy mouthfeel, Starbucks® Blonde Espresso guarantees employees won't have to sacrifice flavor and quality to stay productive at the workplace. Nearly half of employees want Starbucks® coffee offered at work, and Millennials look for espresso drinks at various times of the day. Our Freshpack and brewer technologies work together to craft the perfect espresso, complete with crema; resulting in a beverage that's full of flavor. Made with our Barista Brewer, enjoy as espressos or americanos. Give it your best shot, and introduce Starbucks® espresso to your employees!
4 rails per case
18 freshpacks per rail. Order Quantity is based on Rails
These have short dates of Feb 7, 2020
On Sale Today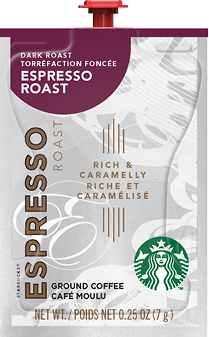 25% Off
NOTE: Only for use in Barista Espresso machines
4 rails per case
18 freshpacks per rail. Order Quantity is based on Rails
These have short dates left of Jan 23, 2020
Save 20% on Flavia Coffee, Teas, Cappuccinos & Hot Chocolate

Same Day Shipping on orders placed by 1pm CST
Minimum order of 5 rails (any mixture of any drinks)