On Sale Today!
On Sale Today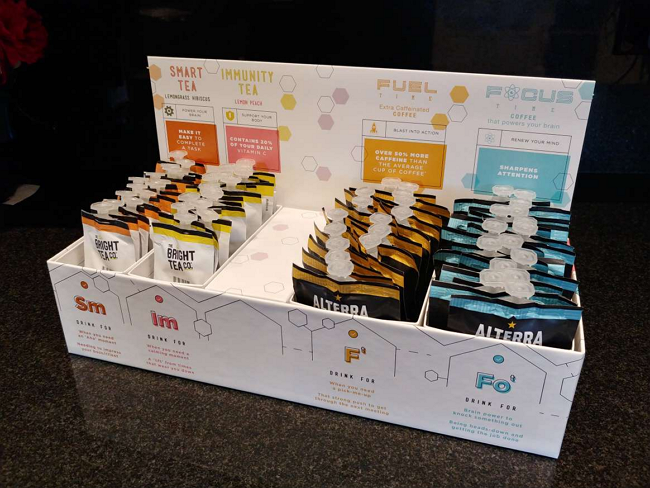 10% Off
With delicious tasting teas and coffees that are designed to fuel

performance,

you'll want to try them all - this combo pack makes it easy!

Our Starter Pack gives you the perfect assortment of teas and coffees made from super ingredients like ginseng, goji, and turmeric. Drinks that are designed to energize and reinforce performance, so employees can reset and refuel throughout the workday. And it doubles as a refillable merchandiser!


What you put in your body directly influences how you perform. This is just as important in the workplace as in the gym. That's why we developed a line of functional teas and coffees just for the workplace, with ingredients chosen based on scientific evidence to improve brain function and health. Give your office what they need by providing drinks that boost their performance at work- focus, attention, staying well, and sustained energy.

1 Kit = 60 Total FreshPacks (15 packs each of 4 flavors)
2 Coffees - Focus Time & Fuel Time
2 Teas - Smart Tea & Immunity Tea

Any discount Beyond Sale Price Not Applicable (Coupon Codes)
On Sale Today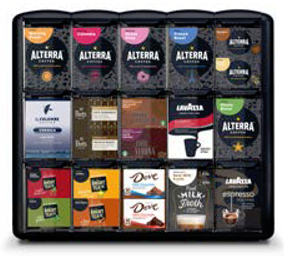 34% Off
PERFECT BLEND OF STYLE AND FUNCTION

The 5 Column Merchandiser is the perfect choice for smaller areas where space is limited. Designed to hold approximately 400 Freshpacks, this merchandiser offers the organization and convenience you need. Enjoy all your favorite drinks, while keeping your space tidy.

This Flavia merchandiser rack has a large display selection available to showcase your awesome coffee setup with a professional appearance! Each selection in this rack is a drawer that the user would pull in order to access the filterpacks in the drawer. There are also divider pieces that can be used within the drawers in order to offer 2 selections in the same drawer.


On Sale Today
42% Off
Air Pump for SB100 Model ONLY!
ONLY FITS SB100!
On Sale Today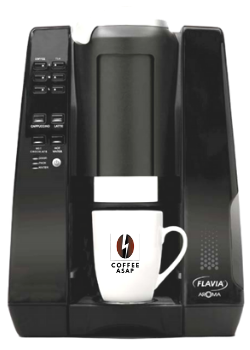 43% Off
Add big coffee shop taste to every small space with the Aroma.

The Flavia Aroma brewer is our newest solution for small offices and for homes. With a small, compact design and a wide range of drinks, this brewer will easily make a great addition to your home kitchen, office lunchroom or reception area.
With over 100 hot drink options available, everyone can easily enjoy the cafe-style drinks they love with the push of a button. Brew coffees, teas, hot chocolates, cappuccinos, lattes, and hot water effortlessly with the Flavia Aroma brewer. Plus, innovations like Real Milk Frost Powder create authentic coffee-shop style drinks without the mess of milk!

Even in small spaces, you can create new opportunities for your workplace to connect, refresh and recharge to stay productive throughout the workday. Great for any workspace with its small footprint - 14.3" H x 10.5" W x 11.6" D. The large tank size means more cups between refills, with an 81floz (2.4L) water tank. Brew 3 sizes: Small 5.4oz, Medium 7oz, Large 8.3oz
The 60-second brew-time and versatility of the Aroma makes enjoying cafe-style drinks quick and simple. By offering a full range of Flavia drinks, you can meet the taste and choice needs for your office or home.
Save 20% on Flavia Coffee, Teas, Cappuccinos & Hot Chocolate

Same Day Shipping on orders placed by 1pm CST
Minimum order of 5 rails (any mixture of any drinks)