On Sale Today!
On Sale Today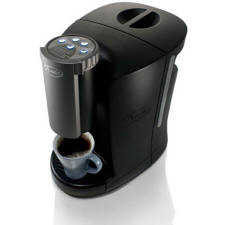 The Flavia Creation C150 Single Cup / No Mess Coffee Maker System Brews Coffee, Tea, Hot Chocolate, & Cappuccino!
On Sale Today
ON SALE! Only 1 Remaining! The latest advancement in our series of high-performance workplace brewers, FLAVIA® CREATION 500 blends stylish design with enhanced drink and menu display options making it easier than ever to create and enjoy the perfect brew. Featuring a compact, modern design built to deliver the benefits you've come to expect-including reliable performance, hassle-free maintenance and no cross contamination of taste from one drink to the next. It's the modern day water cooler that'll bring people at work together-from the boardroom to the break room.
Designed For: Large Office
Water Capacity: 101.4 oz
Plumbable: Yes
Weight (Empty): 27.8 lbs
Power Supply: 120V / 60 Hz
Fixed Cord Power Lead: Yes
Water Filter Type: External Water Filter
Removable Drip Tray: Yes
Approval Certification: TÜV SÜD NRTL Certification, FCC Compliance, NSF 372 & NAMA certified
Bin Capacity: 23 Fresh packs
On Sale Today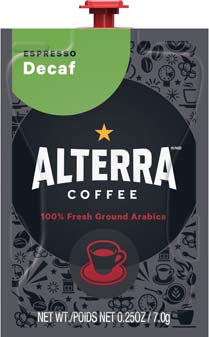 NOTE: Only for use in Barista Espresso machines
Decaffeinated dark roast espresso
Made from 100% Arabica beans
Flavor notes of cocoa, grain and brown sugar
4 rails per case
20 freshpacks per rail. Order Quantity is based on Rails
$13.22
/ rail before Coupon
40% OFF These are packs with past Best Buy dates - they taste exactly the same but have dates of Dec 2017 through April 2018.
Save 20% on Flavia Coffee, Teas, Cappuccinos & Hot Chocolate

Same Day Shipping on orders placed by 1pm CST
Minimum order of 5 rails (any mixture of any drinks)
The following flavors have been replaced with new recipes of the same name or discontinued. The old recipes are no longer manufactured by Flavia, all inventories are gone and will not be available again. Please try the new recipe by Alterra or Bright Tea - they are found above.
Costa Rica Flavia Coffee
Breakfast Blend Flavia Coffee
Intense Dark Roast Flavia Coffee
Sumatra Flavia Coffee
Espresso Roast Coffee
Italian Roast Flavia Coffee
Kona Blend
House Blend Flavia Coffee
French Roast Flavia Coffee
Sidamo Gold Flavia Coffee
Ethiopian Blend Flavia Coffee
Kenyan Dawn Flavia Coffee
Columbia Flavia Coffee

Hazelnut Flavia Coffee
French Vanilla Flavia Coffee
DECAF French Roast Flavia Coffee
DECAF House Blend Flavia Coffee
DECAF Hazelnut Flavia Coffee

DECAF English Breakfast Tea
English Breakfast Tea
Earl Grey Tea
White Tea & Orange
Green Tea with Jasmine
Raspberry Spark