Alterra Fuel Time Coffee for Flavia by Lavazza
Alterra Coffee Refills / Flavia Filterpacks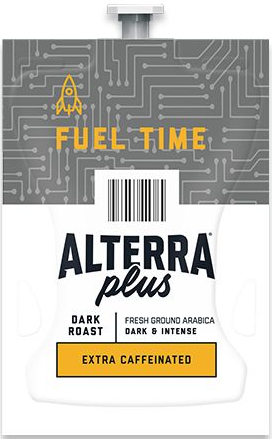 What you put in your body directly influences how you perform. This is just as import in the workplace as in the gym. That's why we developed a line of functional teas and coffees just for the workplace, with ingredients chosen based on scientific evidence to improve brain function and health. Give your office what they need by providing drinks that boost their performance at work- focus, attention, staying well, and sustained energy.
Our Fuel Time coffee contains over 50% more caffeine than the average cup of coffee.* Made with real coffee, with no artificial ingredients, Fuel Time is delicious and provides the wellness you need at work.


*Compared to a cup of Alterra Colombia


5 rails per case
18 freshpacks per rail.
Order Quantity is based on rails.

NUTRITIONAL INFORMATION (PER SERVING)
Energy 0kcal
Protein 0g
Carbohydrate 0g
Sugar 0g
Total Fat 0g
Saturated Fat 0g
Fiber 0g
Sodium 0mg
Salt 0g
Caffeine 125-135mg
Allergens
Contains Allergens No
May Contain Allergens No
Vegetarian Yes
Kosher Yes



Save 20% on Flavia Coffee, Teas, Cappuccinos & Hot Chocolate
Same Day Shipping on orders placed by 1pm CST
Alterra / Flavia Coffee Flavors
Indulgence Choices for the Flavia Beverage System
La Colombe Coffee - Flavia Refill Packets
Peet's Coffee for Flavia
Barista Machine Espressos
Flavia's Bright Tea Company Selection