Yuzu Lemon Infused Water for Flavia by Lavazza
Flavia Cold Drinks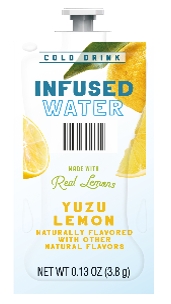 **Limited Edition**

Introducing Yuzu Lemon Infused Water, a limited-time infused water, perfectly balanced with a tart and light sweet taste.


Always refreshing and full of delightful citrus flavor, Yuzu Lemon Infused Water is a tangy pick-me-up that can be enjoyed all day long.

Adding exciting variety to workplace beverage offerings is a great way to treat workers. In fact, 44% of those surveyed choose flavored beverages as a way to treat themselves with 53% preferring citrus flavors.*

Our FLAVIA® cold drinks use real coffee beans, real tea leaves, and real fruit juice. And best of all, with colors sourced from natural ingredients and no artificial sweeteners, they all have 15 calories or fewer per serving.


*MINTEL Trending Flavors and Ingredients, April 2021

5 kits per case.
14 freshpacks per kit.
Order quantity is based on kit (14 packs).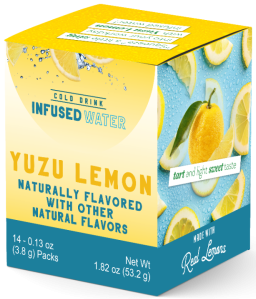 INGREDIENTS
Sugar, Lemon Juice Concentrate, Maltodextrin, Citric Acid, Contains 2% or less of: Silicon Dioxide (anti-caking agent), Natural Flavor, Natural Yuzu Flavor, Reb A.

NUTRITIONAL INFORMATION (PER SERVING)
Energy 10kcal
Protein 0g
Carbohydrate 3g
Sugar 2g
Total Fat 0g
Saturated Fat 0g
Fiber 0g
Sodium 0g
Salt 0
Caffeine 0mg
Allergens
Contains Allergens No
May Contain Allergens No
Vegetarian Yes
Kosher Yes
/ Kit
(14 Flavia Filterpacks)
Out of Stock


Save 20% on Flavia Coffee, Teas, Cappuccinos & Hot Chocolate
Same Day Shipping on orders placed by 1pm CST
Indulgence Choices for the Flavia Beverage System
Alterra / Flavia Coffee Flavors
La Colombe Coffee - Flavia Refill Packets
Peet's Coffee for Flavia
Barista Machine Espressos
Flavia's Bright Tea Company Selection