TAZO Awake English Breakfast Tea - TZ02 by Flavia Teas & Bright Tea Co.
Bright Tea Company / Flavia Packet Refills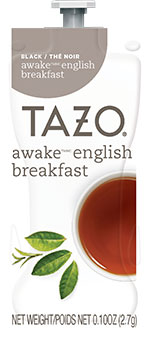 A breakfast-style black tea of malty boldness & bright flavor, invigorating any time of day! Awake is it's name! 100% Black Tea Blend

4 rails per case
20 freshpacks per rail. Order Quantity is based on rails.
Discontinued by Manufacturer


Save 20% on Flavia Coffee, Teas, Cappuccinos & Hot Chocolate

Same Day Shipping on orders placed by 1pm CST
Flavia's Bright Tea Company Selection
Alterra / Flavia Coffee Flavors
Indulgence Choices for the Flavia Beverage System
Barista Machine Espressos