Raspberry Herbal Tea - B500 by Flavia Teas & Bright Tea Co.
Bright Tea Company / Flavia Packet Refills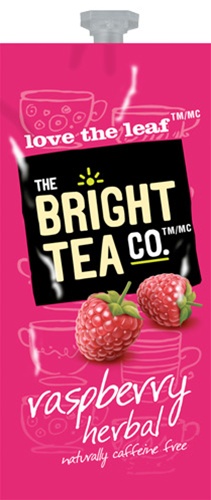 This herbal infusion boasts a harmonious, yet intense berry aroma. The brew is juicy, tart and sweet with a clean raspberry flavor. Hibiscus flowers produced in Northern Africa provide the tart and powerful flavor. Chilean rosehips and lemon peel add citrus notes and depth of flavor while sarsparilla root and ginger root from India imparts creamy, sweet and slightly spicy flavors.

5 rails per case
20 freshpacks per rail. Order Quantity is based on rails.
Discontinued by Manufacturer


Save 20% on Flavia Coffee, Teas, Cappuccinos & Hot Chocolate

Same Day Shipping on orders placed by 1pm CST
Flavia's Bright Tea Company Selection
Alterra / Flavia Coffee Flavors
Indulgence Choices for the Flavia Beverage System
Barista Machine Espressos