TAZO Zen Green Tea - TZ01 by Flavia Teas & Bright Tea Co.
Bright Tea Company / Flavia Packet Refills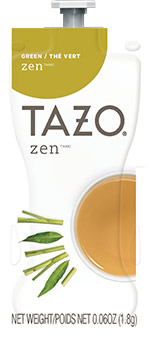 Our TAZO Zen tea blend is the best way to pamper yourself and find your calm. Infused with green tea leaves, lemon verbena leaves, spearmint and lemongrass, it promotes wellness of body and mind. We are so proud of this blend for only having 45mg of caffeine and vibing with our taste buds so well!

4 rails per case
20 freshpacks per rail. Order Quantity is based on rails.
Discontinued by Manufacturer


Save 20% on Flavia Coffee, Teas, Cappuccinos & Hot Chocolate

Same Day Shipping on orders placed by 1pm CST
Flavia's Bright Tea Company Selection
Alterra / Flavia Coffee Flavors
Indulgence Choices for the Flavia Beverage System
Barista Machine Espressos