Flavia Coffee Brewer Parts & Supplies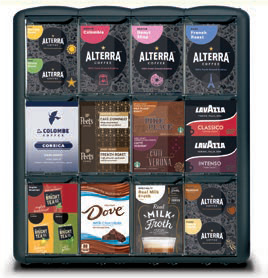 4 Column Flavia Coffee Rack Merchandiser - 9180
PERFECT BLEND OF STYLE AND FUNCTION

The 4 Column Merchandiser is the perfect choice for smaller areas where space is limited. Designed to hold approximately 400 Freshpacks, this merchandiser offers the organization and convenience you need. Enjoy all your favorite drinks, while keeping your space tidy.

This Flavia merchandiser rack has a large display selection available to showcase your awesome coffee setup with a professional appearance! Each selection in this rack is a drawer that the user would pull in order to access the filterpacks in the drawer. There are also divider pieces that can be used within the drawers in order to offer 2 selections in the same drawer.

FEATURES INCLUDE:
Holds approximately 400 Freshpacks
Clear windows make it quick and easy to browse beverage options

TECHNICAL SPECIFICATIONS
Dimensions:
Height: 16.3"
Width: 15.2"
Depth: 17.2"
Weight:
22.95 lb (10.23 kg)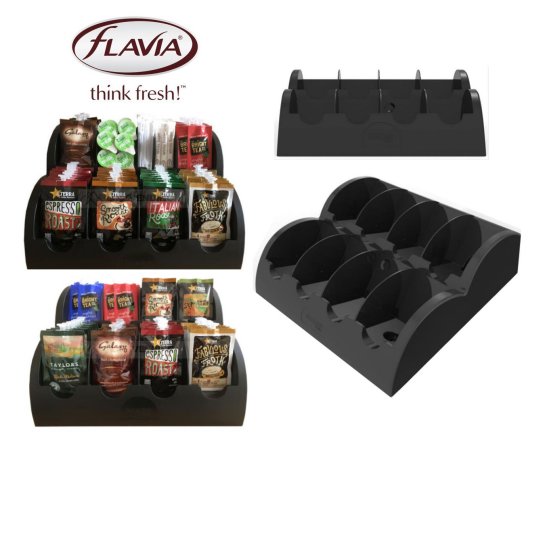 Small Plastic Merchandiser

TASTE AND CHOICE FOR SMALL SPACES

Stylish, sturdy and space-saving, the Small Merchandiser holds 80 Freshpacks. You can easily find your favorites, brew a fresh cup and stay energized throughout the day with this compact organizer. The simple, one-piece design is recyclable, requires no assembly and offers an efficient way to keep workplace drinks areas organized and inviting.

Designed to complement our smaller brewers or drink areas with limited counter space, the Small Merchandiser maximizes space with a convenient small size and displays Freshpacks allowing for simple and quick navigation.


FEATURES INCLUDE:
Can be used inside a 14-inch-deep cabinet drawer that allows 10 inches of height
Capacity to hold 80 Freshpacks
Simple, sturdy construction means it can stand up to even the busiest workplace environments.


TECHNICAL SPECIFICATIONS
Dimensions:
Height: 4.4" (111mm)
Width: 13.6" (346mm)
Depth: 13" (331mm)
Weight:
1.83 lb (0.83 kg)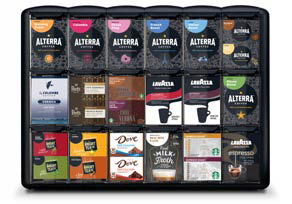 6 Column Flavia Coffee Rack Merchandiser - 9179

A PLACE FOR EVERYTHING
Our easily customizable 6 Column Merchandiser holds up to 612 Freshpacks, leaving plenty of room for all your favorite drinks. The clear windows make it easy to browse for drinks, and the compact design allows you to have that coffee-shop feel while keeping your counter tops neat and tidy.


FEATURES INCLUDE:
Holds up to 612 Freshpacks
Clear windows make it quick and easy to browse beverage options.


TECHNICAL SPECIFICATIONS
Dimensions:
Height: 16.3"
Width: 21.8"
Depth: 17.2"
Weight:
30.95 lb (14.04 kg)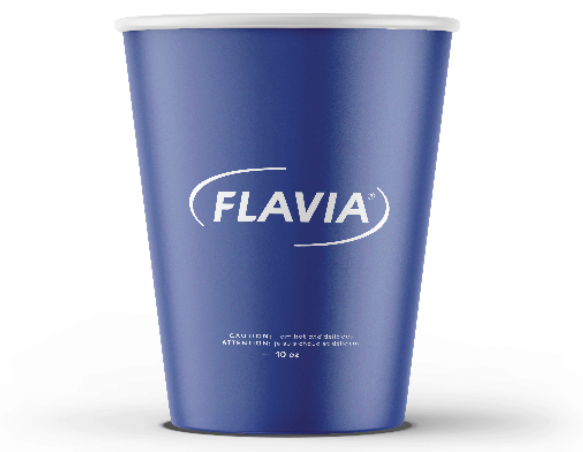 10 oz. Flavia Cups
Flavia Cups
You may use any cup with your Flavia Brewers, but Flavia 10 oz. cups are available if you need them! These 10 oz cups are the perfect fit for those 2 pack beverages.
1 Case = 20 Sleeves = 1000 cups
Save $12.00 on a full case of 20 Packs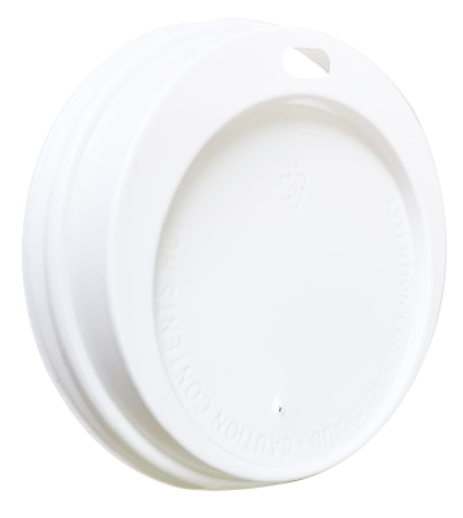 Sip Lids for 10 oz. cups
Flavia Lids
Plastic Lids with a raised sip area designed for the Flavia cups shown to the left
1 Case = 10 Sleeves = 1000 lids

Flavia FUSION Filters
The water filters for the Flavia Fusion single cup coffee brewers.
These filters only fit the FUSION model.
Flavia has stopped production of these filters, but a replacement may be coming. In the mean time, you can use the machine without a filter. Simply remove it and fill with water as normal. If you prefer, you can use water that has already been filtered.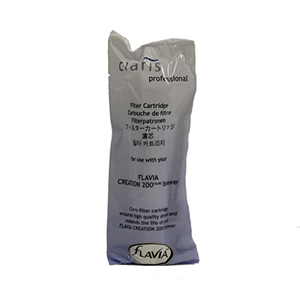 CREATION 150 & CREATION 200 Water Filter
Replacement Internal Water Filter for either the C150 brewer or the C200 brewer.

Does Not fit the Fusion machine.

Want to know which new coffee flavors are similar to your old favorites??
See the Flavia vs. Alterra Comparison
Save 20% on Flavia Coffee, Teas, Cappuccinos & Hot Chocolate