The Flavia S350 Single Cup / No Mess
Coffee, Tea, Hot Chocolate, & Cappuccino Brewer!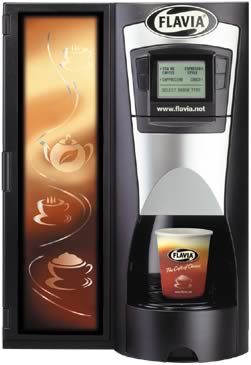 Why is the Flavia FilterPack superior to pods?
Filter Packs do not release coffee into a funnel which has to be cleaned. You normally have nothing to clean!


Since Filter Packs pour directly into your cup, there is no flavor blending by mixing with residue in a funnel as with the pods!


Flavia's Filter Pack system is the original compact single cup gourmet coffee system with 24 years of proven experience!
FLAVIA S350
25+ employee Office Brewer Available in vending or non-pay models
It even makes Cappuccino !! With its new, thick and creamy Cappuccino, it now brings the complete coffee shop experience right to your desk - without the premium price you might expect.
The unique FLAVIA Brewing System has just got better. The sleek S350 Brewer is the new world standard in office brewers, delivering coffee shop quality across a complete cafe menu.
It's like having a trained barista in your office, with an impressive cafe menu of freshly brewed beverages, offering your employees the beverages of their choice.
There are freshground gourmet coffees including: 9 varieties of blends, single-origins, and roasts, 3 decaffeinated varieties, and 4 flavored coffees. Or enjoy real leaf teas such as Earl Grey, English Breakfast, or the caffeine free Herb Red or real Japanese Green Tea. There's even a smooth hot chocolate. In addition, the LCD function of the S350 allows you to create even more cafe' favorites like: Mochaccino, Chococcino, Chai Latte, Cafe Latte, iced coffee/tea, and espressos.

But best of all there's an authentic Cappuccino to rival any coffee shop equivalent.
The S350 can be water filled manually or plumbed in. It can be operated as Free Vending, Coin or Token Controlled, or key switched between the two (on pay model only). The LCD screen can walk even a child through the cafe process! The brewer can also dispense hot water when needed. It is an extremely reliable machine that is very trouble-free, maintenance free, and requires very little cleaning even after hundreds of drinks. Each cup takes only 35 seconds and comes out piping hot! The simple operation and limited access areas prevent problems caused by employee error. The S350 brewer even has a sensor to make sure the cup is in place before it will start to pour!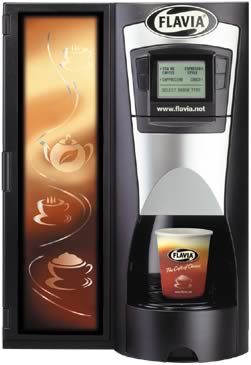 30+ Great Flavors...
Select Yours Here and SAVE!
The design and engineering of this machine is amazing! It fits most situations and uses perfectly while making the most consistently fresh beverages on the market. We have locations that have literally brewed tens of thousands of cups of coffee without have a single problem with this machine! Of course, what else would you expect from M&M Mars.


S350 Technical Specifications
4 oz - 10 oz (LCD screen lets you choose); normal cup of coffee is 7 oz
10 oz (minimum); holds all size ceramic cups and travel mugs
1.35 gallons, 23 - 8 oz drinks in pourover mode or unlimited drinks while on plumbed in mode

Filterpack Trash Bin Capacity

24 standard or up to 600 with optional cabinet bases
43 lbs for standard brewer; 44.64 lbs for pay brewer
13.07" w x 18.9" d x 18.5" h
Note: Brewer depth is 20.28" with water supply connected if plumbed in. A gap of 2.5" is needed behind brewer for water supply pipe work.
17" w x 16.14" d x 18.5" h on the 15 selection setup ( 5 columns of 3 flavors each)
Each column is 3.5" w x 16.14" d x 18.5" h
4"w x 16.14" d x 18.5" h
4.33" w x 16.14" d x 1.77" h (empty)
29"w x 24.5" d x 35.5" h
13" w x 17.75" d x 11" h

Payment System (Pay brewer only)

Made with Mars Electronics Cashflow mech that accepts nickels, dimes, quarters, and Flavia Tokens. Does not give change. Key switches between Free Vend mode and Pay mode.
UL 751, NAMA Certified, ISO 9001: 2000 Certified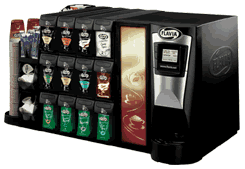 A Complete Coffee Shop
in Any BoardRoom, Lobby,
Break Room or Waiting Area!

3 Types of Displays Available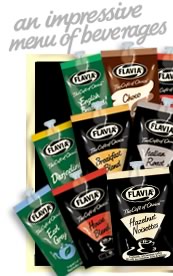 Letter from an auto dealership with the S350 Brewer

sent to their other dealerships
Gentlemen,
Scott Bohn asked me to send this attached file of a newspaper clipping to you guys concerning a great CSI improvement idea. In the last month we installed a Flavia Flavored Coffee machine in the service department here at BBT and since its inauguration our customer can't stop commenting on this free amenity. Below is an actual email from a customer talking about their mediocre service experience and just raves about the coffee making light of the service visit. We are even seeing comments starting to reflect on our surveys and a move in to green lights for the VSS survey that we have so desperately been waiting for, for the last several months. Scott found it coincidental that we are having such success with the coffee program and "wha la," there is an article about it in the newspaper of similar successes in other companies. He wanted to pass this information on to you guys because it has turned out to be a great idea and success story here at BBT.

Nachy Valledor
Certified Master Service Director
Bohn Bros Toyota
Freshness guaranteed: The unique FLAVIA filter pack is the key to getting great taste, every time.

Each pack contains its own built-in filter. The aroma and flavour of its fresh, natural ingredients are then sealed in until the moment the filter pack is placed into the FLAVIA drinks system.
Other Flavia Single Cup Brewers
Coffee

ASAP

.com

FLAVIA S350 Brew-By-Pack
Single Cup Coffee, Hot Chocolate & Tea Brewers
& Vending Machines
Request a Free Demo for Your Office


Would you like to have a Flavia demonstration at your office?


Serious inquires Only, please.
FLAVIA COFFEES & TEAS - from Alterra Coffee Roasters & Bright Tea Company