La Colombe Monaco Coffee for Flavia by Lavazza
La Colombe Coffees for Flavia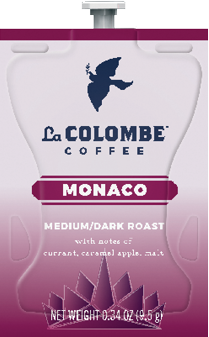 A medium/dark roast with notes of currant, caramel apple and malt. As experts in specialty coffees for nearly 25 years, La Colombe Coffee Roasters has been making people happy one farm, one bean, one cup, one home—and now, one workplace—at a time. Specialty grade coffee is nearly 40% of total coffee consumption in the US, with Millennials driving that demand. Treat employees to La Colombe Monaco coffee to show your appreciation for all their hard work.
4 rails per case
19 freshpacks per rail.
Order Quantity is based on rails.
This premium brand is only $0.96 cents a cup BEFORE any discounts! Compare that to a $4 Starbucks & count your savings!
Go on... Treat yourself. You deserve it!
NUTRITIONAL INFORMATION (PER SERVING)
Energy 0kcal
Protein 0g
Carbohydrate 0g
Sugar 0g
Total Fat 0g
Saturated Fat 0g
Fiber 0g
Sodium 0mg
Salt 0g
Caffeine 90-100mg
Allergens
Contains Allergens No
May Contain Allergens No
Vegetarian Yes
Kosher Yes
Gluten Free Yes
/ Rail
(19 freshpacks per rail)


Save 20% on Flavia Coffee, Teas, Cappuccinos & Hot Chocolate
Same Day Shipping on orders placed by 1pm CST
La Colombe Coffee - Flavia Refill Packets
Indulgence Choices for the Flavia Beverage System
Alterra / Flavia Coffee Flavors
Peet's Coffee for Flavia
Barista Machine Espressos
Flavia's Bright Tea Company Selection